How do I disable compatibility mode?

If you are using Internet Explorer 8, but getting error messages as though your are running an earlier version of the browser, you are probably running in compatibility mode. Compatibility mode makes your browser behave like IE7.

In IE8:
Go to Tools
Select Developer Tools
Look for Browser Mode: near the top of the window after File Find Disable...
Browser Mode should be set to Internet Explorer 8. (Not Internet Explorer 8 Compatibility View)
Look for Document Mode after BrowserMode:
Document Mode should be set to IE8 Standards




Go to Tools
Select Compatibility View Settings
Make sure the Display all websites in compatibility view option is NOT checked.
Click Close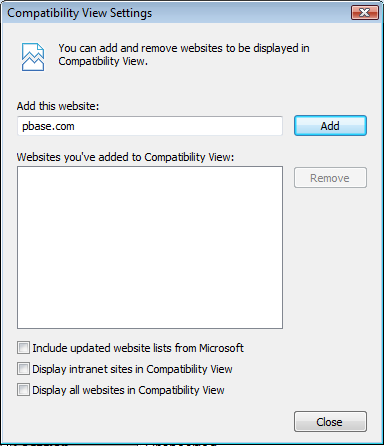 Making these changes should automatically reload the page. If it does not, try shift + refresh the page, and things should be working properly.

How did I get into compatibility view in the first place?
There is sometimes a button next to the refresh button that you can click to take you in and out of compatibility view. The button has a blue background when compatibility view is on, and a white/gray background when it is off. It's possible this button was clicked by accident instead of the refresh button.




How will changing this setting affect viewing other sites?
It is possible that some sites will not display properly when not in compatibility view because they were specifically designed to work with IE7. If you encounter this, you can add the site to the list of sites that should use compatibility view at Tools, Compatibility View Settings.