Message from Steven Weng


create your own visited country map
or write about it on the open travel guide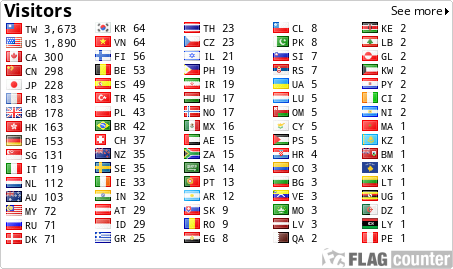 歡迎大家來到我的Pbase網路相簿,也歡迎您不吝批評指教,希望您會喜歡我所拍攝的作品。

1997年8月利用服役期間辛苦存下的血汗錢,於退伍之後的第一天就跑到博漢區,買下了生平第一部相機及鏡頭,Canon EOS-50QD及Sigma 70~300mm F4~5.6 APO。機身是11000元、鏡頭是7000元購入。再加上Kenko的保護鏡、簡易清理工具及一個輕便相機揹包二萬元搞定!就此開啟了我的敗家生涯及攝影這條不歸路。

這幾年下來,器材陸續升級後才有今天這些現有的器材。這幾年間,數位影像的發展簡直不可同日耳語,攝影不再是高不可攀的活動,在這幾乎人手一機的數位時代,好好紀錄一切美好動人的時刻吧!


Welcome to visit my photo galleries.

Thanks for your visiting. Your valuable comment and vote are always welcome and appreciated.

I can be contacted at tsweng@gmail.com

I sincerely wish you all enjoy my pictures!

My favorite topics are Aviation ,Wedding and Traveling photography.
Hope you like these photos and feel free to leave your comments.

I use Canon system more than 10 years from 1997 Aug.

Camera Gear Used:
機身:
Canon EOS-1DSMarkII
Canon EOS-1DMarkII
EOS-1V+PB-E2
EOS-3+PB-E2
鏡頭:
EF500 F4.5L
EF100-400IS F4-5.6L
EF300IS F4L
EF24-70 F2.8L
EF17-40 F4L
EF24-85
EF1.4X
SIGMA 70-200 F2.8EX
SIGMA 2X
閃燈:
Canon 580EXII
Canon 580EX
Canon 550EX
其他配備
PD7X+60GBHD
Lowepro Nova 5
Lowepro 650AW
Lowepro S&F LENS TREKKER 600AW


**Photos shown here are copyright and can not be reproduced without permission.**
網路相簿內所有圖片僅供網路瀏覽使用,嚴禁在未經告知的情況下將圖片變更及使用,若要使用本相簿圖片,請來信徵求同意.