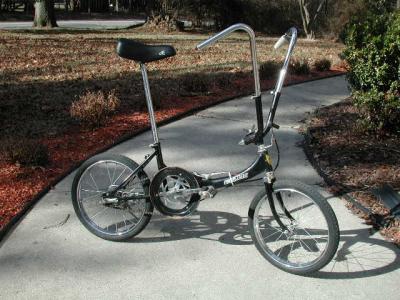 Porta-Silk, Porta-Cycle Folding Bicycle with "Praying Mantis" type, transversely spring-loaded handlebars. This is a unique bicycle indeed.

16" x 1 1/2" balloon tires. Three-speed, SSS (Shimano), fulcrum-thrown, Japanese hub. Rear-only "TOKYO", triple-chrome,heavy steel, drum brake; Chromed steel Westwood pattern front rim could only mount an old-fashioned, rod brake set up, and so, there are no front brakes at all. Made in Japan with obvious pride. Massive, cast & chromed wing nuts with substantial, tool box-type, folding latch, securing the breechblock mechanism for joining the bicycle sections.

It rides beautifully once the rider becomes accustomed to the spring-loaded, shock-absorbing, "floating" handlebars "flapping" up and down, as weight is applied, and isolating the rider's hands from front axle-transmitted shocks. The application of more weight can easily bottom the handlebar suspension when conditions call for enforced control,leaving the front end shock absorption task to the balloon tires alone. This strategy turns out to be very useful to the experienced rider as he can instinctively morph the bike from "joyride mode" to serious control in less than a second. The robust, right side, folding, cottered crank handsomely transitions from storage mode to ride mode with the aid of a single, wrench-tightened nut & bolt. Glossy, black laquer paint over red primer from the factory with a painted, sheet metal chain guard. One inch (25.4mm) seat post. Weight (with air in the tires): 27 pounds. Not a toy, this machine seems to enjoy going down the road nearly as much as I do when I'm on it. I smile whenever I ride this bike!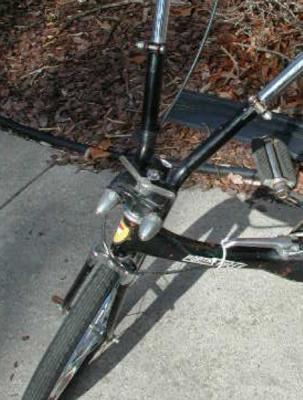 Note the two spring arbors with the conical, chromed covers pointing rearward, and mounted left and right of the steering tube's head badge. These allow the "praying mantis" type handlebars to spring-load to the outside of the bike in order to damp shock transmission originating from the front axle. (This is, at first, most disconcerting to the rider who is unaccustomed to this bicycle). I can best describe the handling as being something akin to holding the reins of a horse...that is to say, the rider must hold them firmly and up, off of the neck, neither pulling too hard nor allowing them to slacken.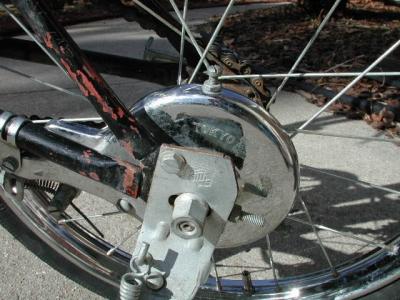 Rear drum brake housing is thick enough to drill and tap threads into it. (note the jam nuts). Look more closely. it says: "TOKYO". With no front brakes and just this drum brake on the rear wheel, you had better have an advance plan for stopping.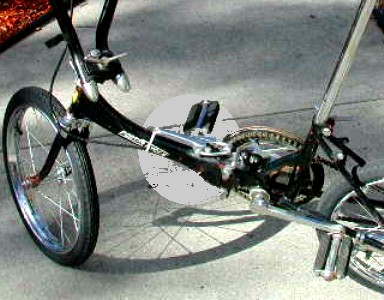 Porta-Cycle's massive, breechblock-type latch assembly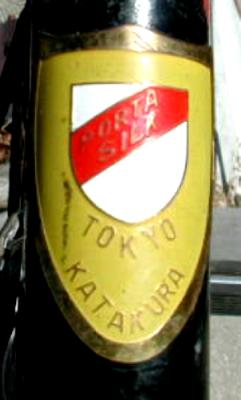 Porta-Silk Head Badge. "Porta-Silk" "TOKYO" "KATAKURA"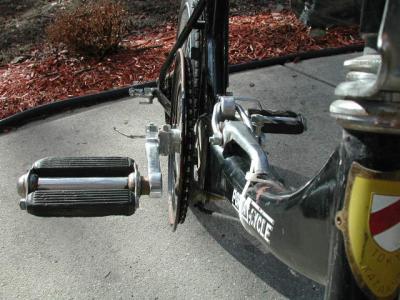 Camera angle illustrating the sweep of the down tube, a view of the latch and the protuberance of the through-axle shifter fulcrum.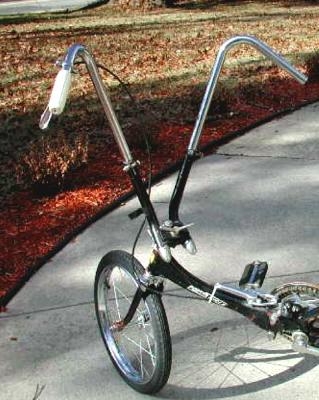 "Praying Mantis" type handlebars are removed for folding by releasing each side's binder bolt. There is no provision for indexing the axial position or the height of the bars. (The shifter and grip are temporarily removed.) The odd orientation of the handlebars makes riding "no hands" an impossibility. "No hands"? "NO! Left unattended, the front wheel will spin 180 degrees of it's own volition. The streering is "feather-light". Riding this bike is a skill in and of itself. Around town, it's remarkable and fun.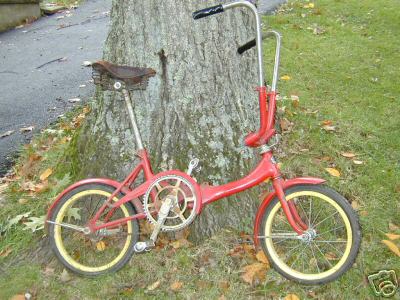 Obviously Porta-Silk's first cousin, this Shimura-Seiki Road Puppy features the same type frame, handlebars, crank, folding pedal and latch mechanism but lacks some features...Single speed hub with coaster brake, non-spring-loaded handlebars. "Road Puppys" mount 16" rims & tires.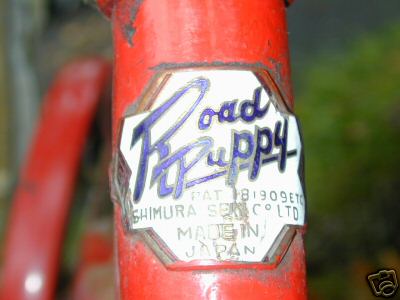 Road Puppy, Pat. 1-81909 etc., Shimura Seiki Co., Ltd., Made in Japan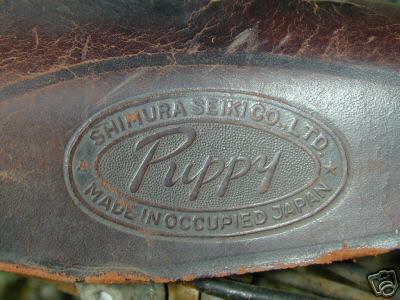 "MADE IN OCCUPIED JAPAN" The Sakura Seiki embossed leather racing seat on the right thigh contact point of a Road Puppy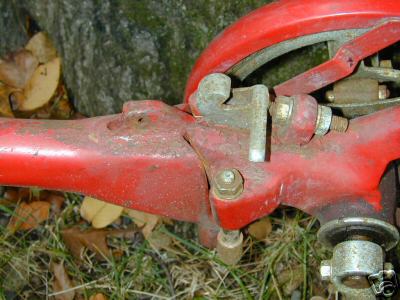 This breech block mechanism is identical to that found on the Katakura Porta-Silk. Unfortunately, with half of the latching mechanism missing, this bike will probably never be ridden again.